Links
Websites you might enjoy








CDR Business IT Solutions

CDR Business IT Solutions provides manged IT services for small to medium businesses including Total Data Protection, Ransomware Protection, Cybersecurity, Website Development & Management, Web Hosting, Computer & Network Repair, Technical Remote Support, Data Recovery and Computer/Mobile Phone Forensics. You can contact us at (210) 491-2710 or by email: info@cdrbiz.com.
Website: www.cdrbiz.com.

Books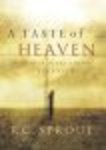 A Taste Of Heaven by R. C. Sproul
We're living in a time when there is a maifest crisis of worship in the church, a rebellion among people who find church less than meaningful. They're bored. Dr. R. C. Sproul searches the Scriptures to show us how God Himself designed worship to give His people a taste of heaven. God intends worship to be an unforgetable encounter between Himself and His people--a joyous experience engaging the worshiper's entire being." Study these timeless principles to guide your worship today--to take you into a deeper relationship. I have experienced it and it is awesome!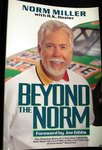 Beyond The Norm by Norm Miller
"The amazing story of a traveling salesman who went the extra mile to become Chairman of Interstate Batteries. Over 35 year4s, Norm Miller built Interstate into the premier company it is today and he wrote this book because he wants to tell the story of how it all came about. He wants his readers to draw some help from it for the living of the rich, full life God intends. Chuck Colson said 'America would be a better nation if there were more CEO's like Norm Miller. His deep faith in God is not only the handbook for his personal life, but it permeates every phase of his company which is operated on Biblical principles."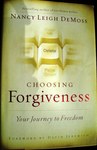 Choosing Forgiveness by Nancy Leigh DeMoss
"It's time to get your life back. You may remember the moment--the time of day, the look in the other person's eye--when you were hurt. When your hopes and dreams were damaged by someone you trusted. And since then your life has been put on hold, sabotaged by harbored resentment, dreams of revenge, or perhaps indiffence and numbness--left you with a knot in your stomach and a dull ache in your heart. There are no magic words or secret formulas but there are biblical principles that can help you break free. Author DeMoss uncovers the promises in God's Word and shows us how to put God's grace and mercy into practice. It could save your life. Break free! Choose forgiveness."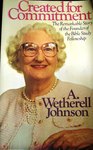 Created For Commitment by A. Wetherall Johnson
"This is the fascinating life story of Wetherell Johnson and the remarkable ministry she founded, Bible Study Fellowship. From its humble beginnings in 1952 as a study group of just 5 women led by Miss Johnson, BSF has grown into a worldwide organization studying God's Word. God prospered this ministry and made BSF known for its careful study methods, astonishingly effective organizational style and especially for the Bible study notes written by Miss Johnson which are read daily all over the globe. See how God rescued her from agnosticism, delivered her from a Japanese prison camp and gave her the strength and wisdom to lead millions into a deeper knowledge of Jesus Christ."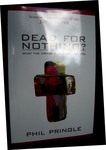 Dead For Nothing? by Phil Pringle
"We are born with a bias toward doing wrong and moving away from God. The cross presents us with the most powerful and enormous work of God in the earth. To get back to the cross, is to get back to an amazing life, based on the death and ressurection of Jesus, rather than the eforts of man. When we are born again, we receive a bias toward God. Then, our faith begins to acknowledge truth rather than facts. There is more to the cross than we realize. The cross presents us with the singularly most powerful and enormous work of God in the earth. Dr. Phil Pringle is pastor of a major church in Sidney, Australia."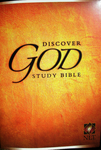 Discover God Study Bible by Dr. Bill Bright
Bill Bright, one of my heroes of the faith, said, "you can trace all of our human problems to our view of God. The most important thing we can teach another Believer is who God is." I was so exited when I learned that his wife and partner in establishing Campus Crusade For Christ had decided to publish his personal study bible with all its notations and the lessons Bill Bright had learned during 50 years of ministry. Lessons that enabled him to live supernaturally, empowered by the Spirit of God. The result was Campus Crusade for Christ in 191 countries, The Jesus Film viewed by more than 5 billion people and The Four Spiritual Laws and his intimate and powerful relationship with the living God.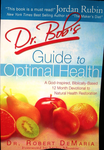 Dr. Bob's Guide to Optimal Health by Dr. Robert DeMaria
"This book is filled with practical, proven recommendations to make you feel better, look healthier and think more clearly. Dr. DeMaria provides great interactive wellness patterns for whole body restoration--through revealing Bible-based wisdom. His 30 years of experience in the healthcare field and thousands of patients attest to the success of his proactive, life enhancing guidance. This God inspired, Biblically based 12 month devotional to natural health restoration provides the foundation on which you can live free of chronic health problems--the way your Creator meant life to be." It sure has made some big changes in my energy, health and life.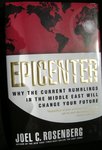 Epicenter by Joel Rosenberg
Epicenter is the factual and scriptural basis of all Joel Rosenberg's popular novels: The Last Jihad; The Last Days; The Ezekiel Option and The Copper Scroll. He looks at both the recent history, the future of the Middle East and world politics through the "Third Lense" of Scripture. He applies the prophecy of Ezekiel, Isaiah, Joel, Amos and Jeremiah to confirm that we entered the Last Days when Israel was reconstituted with the capture of Jerusalem. As a Messianic Jew, Rosenberg shows us how prphecy is coming together for the War of Gog and MaGog wher the Lord Himself will preserve Israel. Then the Babylon of Revelation will rise from the desert of Iraq and the Rapture will open the way for M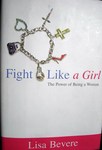 Fight Like A Girl by Lisa Bevere
"Today's twisted pictures of gender roles create confusion over how a woman should define herself. How can a woman feel good about being female when society is constatly dictaiting otherwise? Learn how to discern between God's ideas on femininity and man's? Lisa Bevere implores us to embradce the differences between the sexes instead of trying to eradicate them. Lisa challenges women to accept and celebrate themselves as God made them--their feminiity is their greatest stren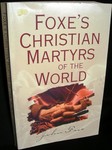 Foxes Christian Martyrs by John Foxe
"John Foxe completed his Masters at Oxford in 1543. He studied the history of the martyrs until he was forced to leave England and flee to Switzerland under the persecution of Mary Queen of Scots. In many parts of the world today, experiencing suffering and tribulation for your beliefs is still a dailyh part of life. For most of us, this is thankfully not the case. And yet, our Lord warns us of the troubles still to come, and knowledge of the history of Christian persecution is valuable preparation. Reading this book may not be a pleasant experience. It is, however, a valuable one. Foxe's book was one of the most popular books for Christians to read in the 16th Century."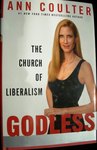 Godless: The Church of Liberalism by Ann Coulter
"If a Martian landed and set out to determine America's official state religion, he would have to conclude it is liberalism, while Christianity and Judaism are prohibited by law" and politial correctness. "Many Americans are outraged by liberal hostility to traditional religion. But as Ann Coulter reveals, to focus solely on the Left's attacks on our Judeo-Christian tradition is to miss a larger point: liberalism is a religion -- a godless one. And, it is now enthroned as the state religion of this country. Though liberaism rejects the idea of God and reviles people of faith, it bears all the attributes of a religion. Coulter throws open the doors of the Church of Liberalism, showing us its sacrements, holy writ, martyrs, clergy, churches and doctrine."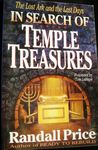 In Search of Temple Treasures by Randall Price
"The search for the Ark of the Covenant has fired the imaginations of archeologist and students of prophecy through the ages. Could the discovery of the Ark and other priceless Temple treasures be the match that lights the final rebuilding of the Temple in Jerusalem? Dr. Price will take you on a remarkable expedition into the Ark's mysterious past, its explosive significance today and its implications in the timing of last days's events. Meticulous research, exclusive photographs and charts and dozens of interviews with leading authorities in the Middle East provide a factual inside view of one of history's most facinating quests."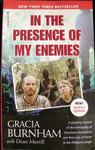 In The Presence of My Enemies by Gracia Burnham
"For American Missionaries, Martin and Gracia Burnham, what started out as a relaxing, once-in-a-lifetime anniversary getaway at an exotic island resort turned into one of the most horrific nightmares imaginable. They were kidnapped and taken off into the jungle by the Abu Sayyaf, a terrorist group with ties to Osama bin Laden. During a year in captivity, they faced near starvation, constant exhaustion, frequent gun battles and cold-hearted murder. This is a griping firsthand account of faith, love and struggle in the midst of casual brutality. Whatever the struggles of your life, you'll find encouragement and hope in this refreshingly honest store of a yearlong battle with the darkness that inhabits the human heart."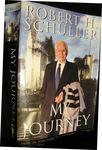 My Journey: From An Iowa Farm to a Cathedral of Dreams by Robert Schuller
Robert Schuller begins his autobiography with "I was born at the dead end of a dirt road with no name and no number. You can go anywhere from nowhere!." Dr. Schuller's career has spanned more than five decades and his ministry of hope has touched the hearts of millions around the world. In this his disarmingly honest autobiography, he shares the events and people that shaped his life and made him the ultimate possibility thinker. Dr. Shuller is: Pastor of the Crystal Cathedral; host of the Hour of Power, the longest running weekly televised church service in America; and, best selling author of 30 books, but you'll learn from his autobiography that he's just a regular guy.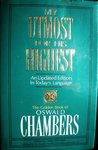 My Utmost For His Highest by Oswald Chambers
"This is a 365 day devotional with a daily subject covered by a scripture quotation that underscores the subject and a brief study of that scripture. This is one of the most enduring bestsellers of our time. This distinctive Christian classic, with its rich, spiritual insights and life-changing perspectives, has now been faithfully translated/updated for a new generation."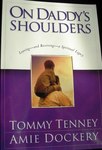 On Daddy's Shoulders by Tommy Tenney and Amie Dockery
"Tommy Tenney is the best selling author of The God Chasers series. Amie Dockery, daughter of one of Tommy Tenney's longtime friends, joins him in authoring this wonderful book on the importance of leaving a heritage and receiving blessing, generation to generation. Both authors are recipients of a generational blessing. Every parent desires their offspring to reach higher and see further than they have seen. Who will provide this legacy to your children and to the next generation? The call is to you--Stand up tall and square your shoulders. Your children need a vantage point from which to see. Be part of the future. Use this God given opportunity to leave a legacy.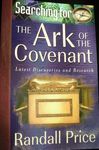 Searching For The Ark of the Covenant by Randall Price
"The Ark of the Covenant is the greatest of all ancient treasures. Are Explorers close to finding the Ark? It is the centerpiece of Jewish history, the ultimate prize in archaeology, and the subject of one of the greatest stories of all time. Enshrouded in centuries of history, legend and mystery, it has captured the imagination of people around the world. Join Middle East expert Randall Price in a fast-paced exploration of the facts and fables about the Ark of the Covenant. Your journey will take you through several continents, several diverse cultures and 4 millenia of history. You will see why the search for the Ark is one of the most significant quests of our time."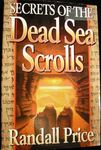 Secrets of the Dead Sea Scrolls by Randall Price
"This authoritative resource is based on meticulous research and firsthand interviews with the people closest to the Scrolls: translators, scholars, eyewitnesses and the nomadic shepherd who first found the Scrolls." Dr. Randall Price is a Pastor, a Bible scholar and an Archeologist! "The community of people who wrote, copied and hid the Scrolls in caves lived in anticipation of the end times. Instead, their community died out and 2,000 years passed before their writings were discovered. You will find out a great deal about who wrote the Scrolls and how they have affirmed the authenticity of the Bible." Eventhough this book is detailed and methodical, I could not put it down!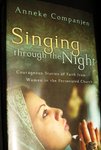 Singing Through the Night by Anneke Companjen
"There are many untold stories of the persecuted church of today -- stories of women who bravely follow Christ at any cost. This stirring book reveals the lives of 11 women in 9 different countries around the world. They've lost husbands, children, homes, jobs, or their very freedom yet continue to praise and serve the Lord. The lessons these courageous women learned in tough times will help yu persevere and endure whatever hardships come your way. Author Anneke Companjen traveled as a missionary with her husband and witnessed firsthad the persecution many endure. She brings awareness to the free world of how these believers pay a heavy price for their faith in Jesus.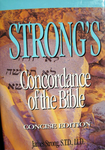 Strong's Concordance of the Bible by James Strong
"Dr. James Strong, a professor of exegetical theology, spent 35 years during the l19th Century preparing the most widely accepted concordance of the King James Bible. The remarkable dedication involved is realized only when one considers that the work was done manually without the benefit of modern computers or other electronic equipment. Strong's Exhaustive Concordance was first published in the 1890's and has been acclaimed an indispensible reference work of Bible students and scholars ever since.." It has really been critical for me in research for POWER UP! RADIO.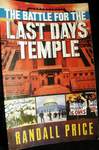 The Battle For The Last Days Temple by Randall Price
"Why is the Temple Mount the most volitile property on earth? One of the biggest battles raging in the Middle East involves the Temple Mount in Jerusalem. Many Jews long to rebuild the Temple destroyed by the Romans in AD 70. But the site is now dominated by the Muslim Dome of the Rock, and Palestinians claim the Jews have no previous history at the site! Pastor, Archeologist and Middle East expert, Randall Price, provides fascinating answers to our questions based on archeological evidence, historical records and exclusive interviews with those at the forefront of the Temple movement. Along the way, he shows how today's headlines line up with what the Bible says about the future.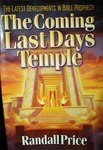 The Coming Last Days Temple by Randall Price
"Jerusalem's last Temple was destroyed by Rome in A.D. 70, and the Muslim Dome of the Rock currently sits on the Temple Mount. With the Israeli-Arab conflict raging and the Temple Mount at the center of the controversy, what will the future bring? The Bible is surprisingly rich with answers-- with prophecies about the future Temple found in both the Old and New Testaments. Some claim these prophecies are merely symbolic, but are they? Does the Bible give evidence that we can expect a literal Temple? Right now, plans are well underway in Israel to construct a new Temple which could be the most significant building of our time. Dr. Price matches prophecy with the news headlines of today."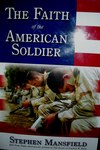 The Faith of the American Soldier by Stephen Mansfield
"Stephen Mansfield,author of The Faith of George W. Bush, in studying our troops in Iraq, reached surprising conclusions about the need for structured faith on the battlefiels and how it's absence contributes to catastrophes like those at Abu Ghraib prison. War forces a definition of belief. It strips away the superficial and even the cultural and leaves only what is relevant in the face of death, horror and fear. It's unforgiving of superficiality, easy answers and thin religiousity, War demands real world meaning. Religion on the battlefield has to work. Our Millenial generation, the spoiled children o the godless anti-war hippie parents--these kids get it! The Marine Corps Commandant said 'there are no atheist in foxholes."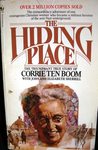 The Hiding Place by Corrie Ten Boom
The Hiding Place records the life of the Dutch Ten Boom family prior to and during World War II and their deep felt religous calling to save Jewish neighbors. When they are finally caught, they are taken to camps in Germany where Corrie was the only member of the family to survive. She became a wonderful speaker and teacher after she was released and recovered. It was wonderful to meet this wholesome family filled with Jesus.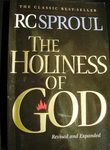 The Holiness of God by R. C. Sproul
"Are you intrigued by God's holiness or are you terrified? Jesus prayed 'hallowed be your name' but He is not treated with holy reverence. His name is tramped through the dirt of the world. God's kingdom will never come where His name is not considered holy. This is one of the classic theological works of our time. Every Believer who is serious about his or her growth needs to read this book. It will drive you to your knees and dramatically change your life."

The Holman Illustrated Bible Dictionary
"This is everything a Bible dictionary should be: a vast storehouse of ease-to-read information; Definitions far beyond mere explanations, and a wealth of in-depth articles underscore the tehological significance of Bible passages; Hundreds of color illustrations are wedded to the comprehensive text; Articles based on original languages but written in user-friendly style; Extensive cross-referencing of related articles; Inroductions to every Bible book; Full color maps throughout the text; plus NASA photographs offer the equivalent of an atlas. Information; definitions, introductions and articles are arranged in a single alphabetical listing." Its a must for every serious student of God's Word.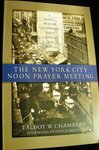 The New York City Noon Prayer Meeting by Talbot W. Chambers
"Originally published in 1858, this classic volume recounts the remarkable history of New York City's Fulthon Street Noon Prayer Meeting that sparked a revival thoughout America and abroad. Full of remarable stories of God's power to draw people to Himself, this firsthand account of the Noon Prayer Meeting not only tellls what God has done in the past, but will raise your faith to new levels for what God will do in the future. This glimpse into history will give you new fervor to believe that God's power to bring His kingdom to Earth will once again rain down in days to come."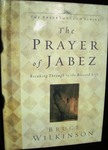 The Prayer of Jabez by Bruce Wilkinson
"Do you want to be extravagantly blessed by God? Are you ready to reach for the extraordinary? To ask God for the abundant blessings He longs to give you? Discover how the remarkable prayer of a little-known Bible hero can release God's favor, power and protection. You'll see how one daily prayer can help you leave the past behind -- and break through to the life you were meant to live. Dr. Bruce Wilkinson is the founder of Walk Through The Bible. If you long to live your life the way it is meant to be livedin Christ, this book is a must read."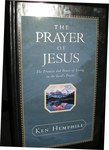 The Prayer of Jesus by Ken Hemphill
The longing for a deep and enriching prayer life, and the intimacy with God that comes with it, is desired by all believers. So why do so few find it? Desire is not the issue. Sincerity is not the issue. Even those who saw with their own eyes blind men healed, demons cast out, and the lame walk again had one request for the Master, Lord, teach us to pray. The answer was the Lord's Prayer. Pastor Miller calls it the Disciple's Prayer, because it is an outline of what we need to know to pray. Ken Hemphill is President of Southwestern Theological Seminary and author of numerous books."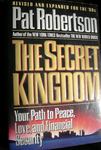 The Secret Kingdom by Pat Robertson
"Your path to peace, love and financial security. Robertson's powerful insight reveals the secrets to success in your personal life, your family, your work, the church, our national government and international relations. America's foremost Christian broadcaster give us the keys to a stable, prosperous and satisfying life. These timeless principals of God's eternal kingdom will help you face the problems of today. From beginning to end learn the keys to living a fulfilling and happy life. Celebrate the joy of living in God's invisible kingdom today, right here on earth. Learn how to be faithful with God's gifts. Reigh over the earth as God's steward. Unearth the treaure of true greatness."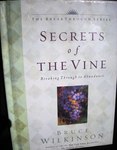 The Secrets of the Vine by Bruce Wilkinson
"Are you ready to break through to the abundant life? It is time to trade in mediocrity for a life of consequence? Do you want to experience the joy of making maximum impact for God? Bruce Wilkinson leads us on a journey through John 15. Find out why Jesus is the Vine of life and explore the four levels of fruit bearing. You'll learn 3 surprising secrets that will open your eyes to your unrealized potential in Him....starting today! Dr. Bruce Wilkinson is founder of Walk Through The Bible Ministries, an international organization dedicated to providing the finest biblical teaching, tools and training."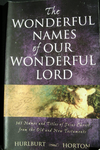 The Wonderful Names of Our Wonderful Lord by Hurlburt and Horton
"You will know Jesus better through His wonderful names. There is power in the wonderful names of our Lord--power to be claimed by calling Him by each one. There are 365 names and titles of Jesus Christ from both the Old and New Testaments. Study a different name each day along with it's scripture reference and a brief daily devotional. From Genesis to Revelation, the Bible paints a multifaceted portrait of our Sure Foundation, the Light of the World and the Alpha and Omega. Get to know Him better through His wonderful names."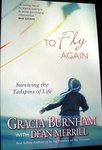 To Fly Again by Gracia Burnham
"Like a violent microburst that threatens to down an airplane, an unexpected crisis may rock your world and leave you wondering whether the life you've known is over. Gracia Burnham understands those feelings. Reflecting on the horrific year she and her husband spent as hostages in the Phillippine jungle and her experience since returning home, Gracia shares how she is rebuilding her life by God's grace alone. You may know the Burnham's story or perhaps you are seeking direction and hope in the midst of your own pain. She addreses the confusion, fear, anger, anxiety and loss of control all people experience in a crisis. See that God longs to pour His grace in to people with broken dreams and fill their lives with joy."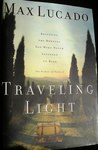 Traveling Light by Max Lucado
"The luggage of life. You've been known to pick up a few bags--you did this morning between the first step on the floor and the last step out the door, you stepped over to the baggage carousel and loaded up--not the one in the airport; it's the one in the mind. And the bags we grab are not made of leather, they're made of burdens: The suitcase of guilt; The trunk of discontent; A backpack of anxiety and a hanging bag of grief. Add on a briefcase of perfectionism, an overnight bag of loneliness and a duffel bag of fear. No wonder we are so tired at the end of the day. Pastor Lucado walks us through the verses of the 23rd Psalm to help us inventory our burdens and release them--burdens God never intended us to bear."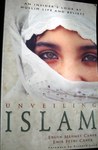 Unveiling Islam by Ergun and Emir Caner
"An inside look at Muslim life and beliefs. Islam is often obscured by a veil of unfamiliar beliefs, custom and practices. We watch intruguing images of Islamic nations on our televisions. We hear words like Muslim and jihad defined in conflicting terms. What is Islam, truly, when you peek behind the veil? Brothers Ergun and Emir Caner were raised in the mosque as Sunni Muslims--they lived the Muslim life and they can explain the culture with clairty. Now Christians and respected theology provessors, the Caner brothers are in a uniques position to present an sider's look--a sympathetic yet uncompromising presentation of the entire scope of Islam--its practices, ethics and beliefs including it's primary differences with Christianity."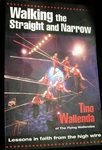 Walking The Straight and Narrow by Tino Wallenda
"This book is full of lessons of faith from the high wire. Tino Wallenda has walked over dens of lions and tigers, between buildings, across rivers, and over a pool that contained more than 50 man-eating sharks. With all the fame and acclaim, however, he is best known for his simple, yet powerful message of fearless faith breathtakingly delivered from the high wire." It has been my pleasure to watch and listen to Tino as he walks across, sits on a chair and stands on his head 30' above the prison yard and talks to the inmates about lessons in faith and life. They never take their eyes off of him and they are listening, really listening. Then I have seen their response when he calls them to salvation.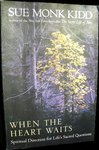 When The Heart Waits by Sue Monk Kidd
After writing The Secret Life of Bees, Sue Monk Kidd now gives us an inspiring autobiographical account of personal pain, spiritual awakening and divine grace. There is no short cut to religion. She learned the disclipine of active waiting in the Lord rather than looking for an escape from her pain. She relates the passionate and moving tale of her spiritual crisis. when life seemed to have lost meaning. She blends her own experiences with an intimate grasp of spirituality." We can all benefit from her sharing her personal experience.

Zondervan Handbook to the Bible
"Over 800 full color pages packed with information and insight written by 70 contributors who have discovered the riches of the Bible for themselves and want to share them with you: Over 700 color photographs and illustrations showing the world of biblical characters and events; 119 articles by international scholars on the setting and use of the Bible including character studies and interpretations; Color maps and charts of historical and background information; A comprehensive Fact-Fin